All investments are subject to risk including the potential loss of principal. No investment strategy can guarantee a profit or protect against loss in periods of declining values. Any statements referring to grow your income are not a guarantee or prediction of future performance.  Any references to protection benefits, guarantees or lifetime income generally refer to fixed insurance products, never securities or investment products. Insurance and annuity product guarantees are backed by the financial strength and claims-paying ability of the issuing insurance company.  Neither the firm nor its agents or representatives may give tax or legal advice. Individuals should consult with a qualified tax professional for guidance before making any purchasing decisions.
Insurance products are offered through the insurance business Retirement Solutions Group. Retirement Solutions Group is also an investment advisory practice that offers products and services through RSG Investments, LLC.
The insurance products offered by Retirement Solutions Group are not subject to investment advisor requirements.
Retirement Solutions Group and RSG Investments, LLC are affiliated but are separate entities.
We can also refer you to professionals who provide the following services:
Trusts
Probate
Charitable Giving
Estate Planning
Tax Planning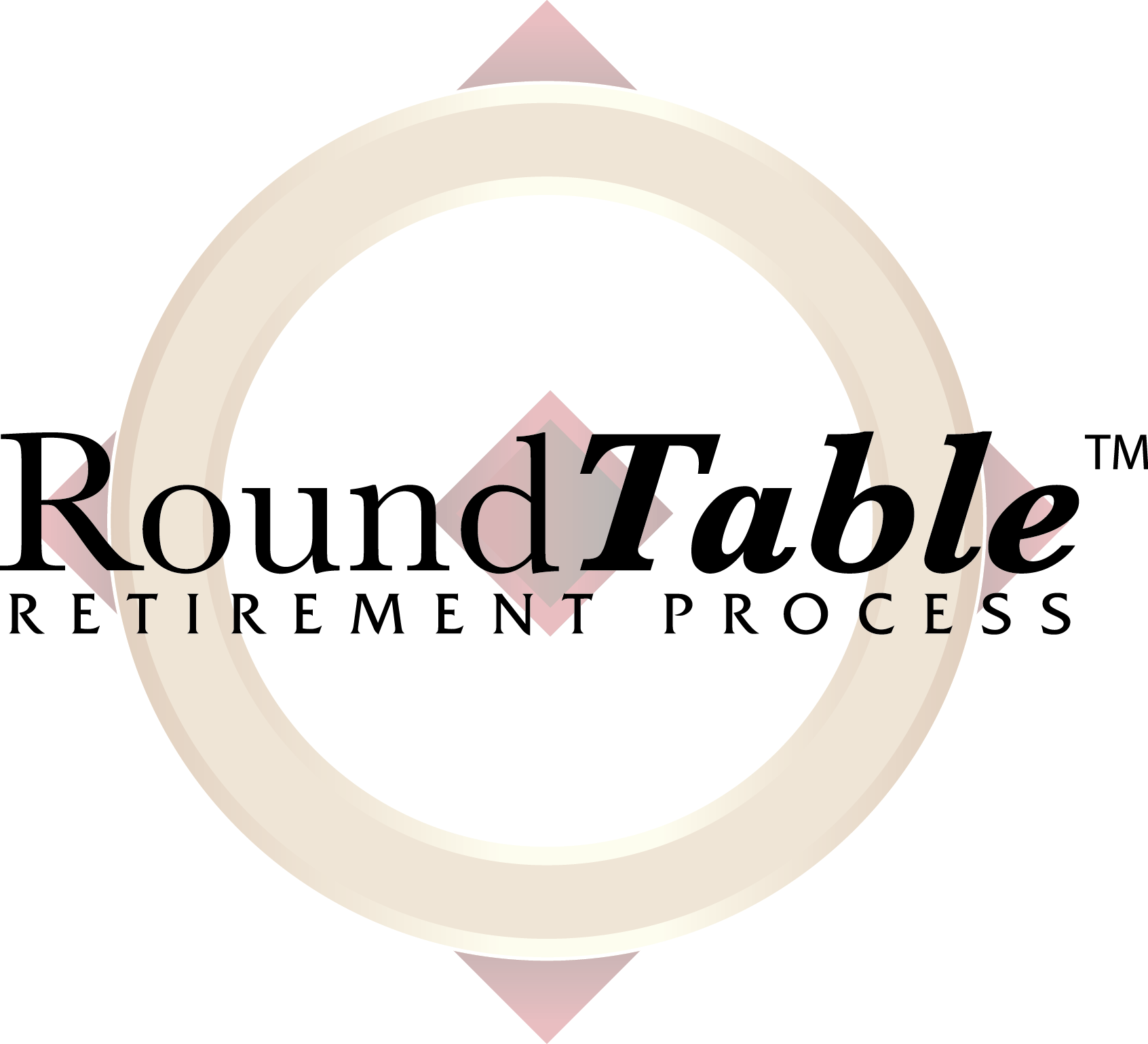 Your Round Table Retirement Process
A systematic and disciplined approach to financial planning.
Social Security Maximization

Health and Long-Term Care Planning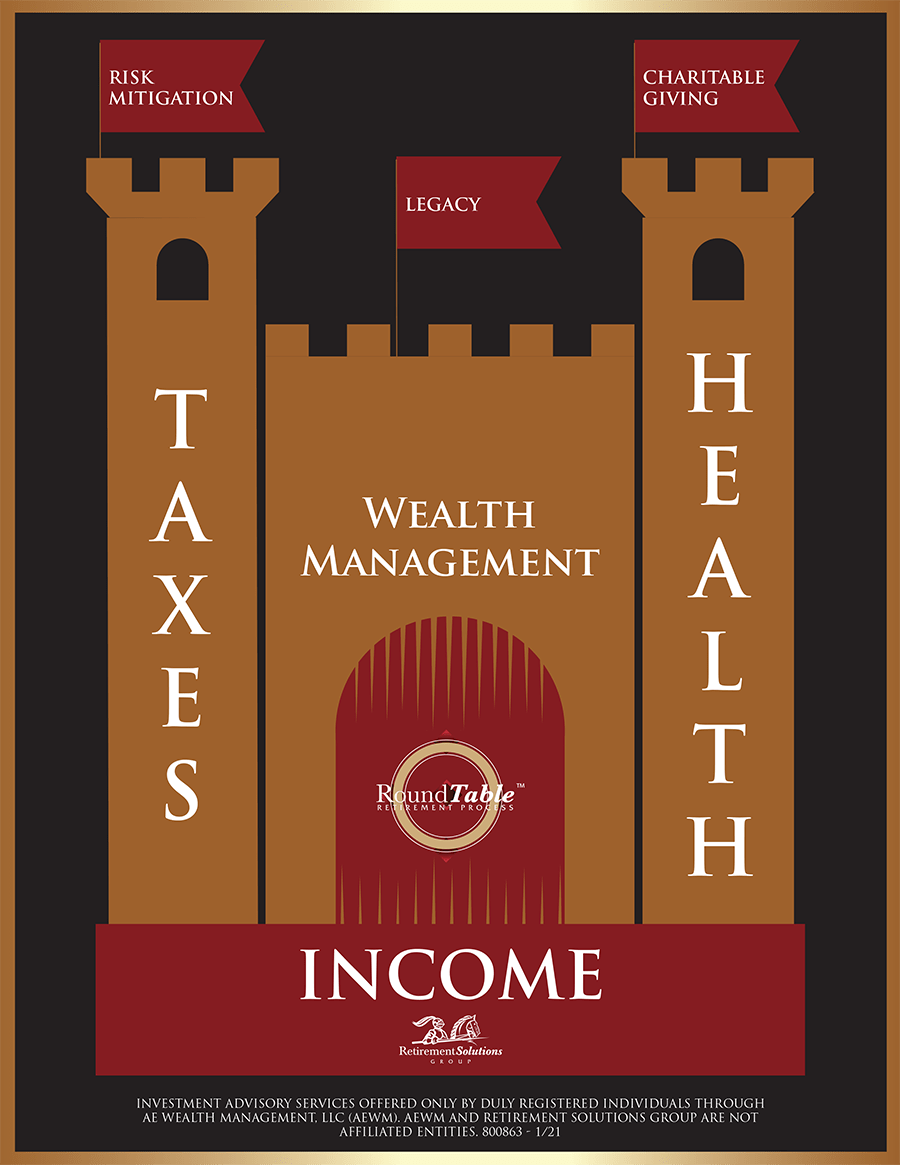 Legacy
Legacy:
It is important to ensure your hard-earned assets go to your beneficiaries in the most tax-efficient manner. By working collaboratively with a qualified estate planning attorney, our goal will be to help you:
Maximize your estate and income tax planning opportunities
Protect any assets in trust and ensure they are distributed to your beneficiaries probate-free
Prevent your IRA and qualified accounts from becoming fully taxable to your beneficiaries upon your death
Taxes
Taxes:
Any comprehensive retirement plan will include a strategy for decreasing tax liabilities.
This typically includes:
Assessing the taxable nature of your current holdings
Possible IRA planning
Strategizing ways to include tax-deferred or tax-free money in your plan
Determining which tax category to draw income from first to potentially reduce tax burden
Discussing ways to leverage your qualified money to leave tax-free dollars to your beneficiaries
Health
Health:
We will create a plan to help you address rising health care costs with a minimum of expense, including:
Looking at all aspects of Medicare, Parts A, B and D
Analyzing options for a long-term care plan
Income
Income:
Our goal is to help ensure your expenses can be paid month to month with reliability, tax-efficiency and predictability for the rest of your life. This typically includes:
Social Security maximization
Income and expense analysis
An inflation plan
A spousal plan
Longevity protection
Investments
Investments:
Our mission is to help you work toward your investment goals through low-risk and objective-based asset management. We focus on providing comprehensive investment selection and asset allocation through a philosophy that emphasizes:
• Independence and a commitment to work towards your goals
• Transparency
• Stability and a focus on managing risk and volatility
• Integrity
• Strategic advice
Do you know what your risk tolerance is? TAKE THIS QUIZ TO FIND OUT!
Retirement Solutions Group and Riskalyze are not affiliated companies. Retirement Solutions Group cannot guarantee the accuracy or completeness of the Riskalyze software or outputs. Riskalyze is intended to be used as a tool in designing a financial portfolio.