Will I have enough?
Life expectancy in the United States is at an all-time high.1 While that's great news, one drawback to a longer life is the greater possibility of outliving your savings. In fact, in one study, 43 percent of Americans surveyed said their No. 1 fear in retirement was the possibility of outliving their savings.2
Figuring out the best way to make your savings stretch over the next 25 to 30 years can not only be confusing, it can also be overwhelming.
But it doesn't have to be that way.
Insurance products like annuities can provide a steady and reliable income stream for the rest of your life, while investment products create opportunities for long-term growth. We can help you incorporate both in a financial strategy designed to put you on the path to the retirement lifestyle you want.
1 Honor Whiteman. Medical News Today. Oct. 8, 2014. "CDC: Life Expectancy in the US Reaches Record High." https://www.medicalnewstoday.com/articles/283625.php. Accessed March 23, 2015.
2 Catey Hill. MarketWatch. July 18, 2016. "Older People Fear This More Than Death." https://www.marketwatch.com/story/older-people-fear-this-more-than-death-2016-07-18.
Time could be on your side when it comes to investing.
Generally speaking, the longer you invest, the more potential your money has to grow. If you are still trying to recover from losses in recent years and you're looking to get back on track to accumulating wealth, you may want to consider a more aggressive asset allocation with at least a portion of your money. However, those who've lost in the stock market may sometimes be a little more wary of approaches that increase their market risks.
If that sounds like you, there are more conservative investment options available that provide the potential for wealth accumulation. Using these investment options in conjunction with insurance contracts such as annuities can help you design a more conservative retirement strategy. After all, the last thing you want to do in retirement is lose more ground during another market correction.
Don't put all your (NEST) eggs in one basket.
You've got plans — a lot of them. Wouldn't it be more fun to focus on your dreams than constantly worry about what the market's doing?
Diversifying your retirement assets among a variety of vehicles — including a mix of both insurance products and investments, depending on what is appropriate for your situation — may offer you the best chance of meeting your retirement income goals.
Anyone who invests in the market should understand it involves potential risk of principal. So, to provide some security not found in the stock market, you may want to include some insurance products in your financial strategy. These products, such as annuities, can provide supplemental income throughout retirement and protect your money from declines due to stock market losses.
If you've ever worried about outliving your retirement savings, you're not alone.
A recent study found that 67 percent of Americans indicated they would be willing to give up smaller pay increases in exchange for steady and reliable income in retirement. In the same study, 78 percent said the disappearance of pensions has made it harder to achieve the American dream.1
With pension offerings on the decline, you may want to consider a fixed income component to your financial strategy. In short, adding an annuity may be an opportunity to help ensure a portion of your retirement income will be guaranteed.
What is an annuity?
An annuity is a contract you purchase from an insurance company. For the premium you pay, you receive certain fixed and/or variable interest crediting options able to compound tax deferred until withdrawn. When you are ready to receive income distributions, this vehicle offers a variety of guaranteed payout options — some even for life.
Most annuities have provisions that allow you to withdraw a percentage of the value of the contract each year up to a certain limit. However, withdrawals will reduce the contract value and the value of any protected benefits. Excess withdrawals above the restricted limit typically incur "surrender charges" within the first five to 15 years of the contract. Because they are designed as a long-term retirement income vehicle, annuity withdrawals made before age 59 ½ are subject to a 10 percent penalty fee, and all withdrawals may be subject to income taxes.
1 The National Institute on Retirement Security. "Retirement Security 2015: Roadmap for Policy Makers – Americans' Views of the Retirement Crisis." March 2015. https://www.nirsonline.org/storage/nirs/documents/2015 Opinion Research/final_opinion_research_2015.pdf
Life insurance isn't for you — it's for those you leave behind.
If helping loved ones maintain a standard of living and avoid financial hardships after your passing is a priority for you, life insurance products can help. A general rule is that you may want to seek coverage between five and seven times your gross annual income. As far as the various types of policies go, they can generally be placed into one of two categories: term and permanent.
Term insurance generally provides coverage for a specified period of time and pays out a specified amount of coverage to your beneficiaries only if you die within that time period. A permanent insurance policy, on the other hand, will stay permanently in effect for the rest of your life, as long as premiums continue to be paid.
Make Medicare work for you.
Medicare can be a confounding maze, but it's an important one to navigate.
With health care costs rising and Americans living longer, on average, the decisions you make about plans and supplements could have major implications on your lifestyle and future. Whether you're contemplating Plan A, Plan B, Medigap or Medicare Advantage, you're almost certain to have questions.
We can help examine your unique factors and determine a Medicare strategy that best addresses your needs.
You worked hard for your assets. Now they can work for you.
Inflation, unexpected expenses, once-in-a-lifetime travel opportunities… Predicting the unpredictable is impossible. That's why it may be prudent to have a certain amount of your nest egg in investment products.
Investing involves risk, and there are no ways to guarantee that you won't lose money, but having a certain portion of your assets in the market gives you the opportunity to build on your existing wealth. Over time, that growth potential could help you offset the effects of inflation and other factors that erode the purchasing power of your assets — assets you may be counting on to see you to and through retirement.
From stocks and bonds to mutual funds and retirement accounts, we welcome the opportunity to help you figure out where investment products might fit in your overall financial strategy.
If taxes rise in the future, will it cut into your retirement savings?
Rising taxes may be a concern for anyone — especially for individuals approaching retirement. Having a solid strategy in place for how you will pay taxes on your retirement income can be an important component to living on a fixed income and avoiding surprises come tax time.
Investing in or purchasing a tax-deferred vehicle means your money can compound interest for years, without paying current income taxes, potentially allowing it to earn interest at a faster rate. Tax-deferred vehicles only allow you to defer paying income taxes until the money is withdrawn — presumably during retirement when you may be in a lower tax bracket. However, few financial vehicles avoid taxes altogether.
Because tax-deferred vehicles are generally designed to help individuals work toward specific long-term goals, there may be restrictions on when money can be withdrawn without penalty. Early withdrawals may be subject to charges and fees. Withdrawals prior to age 59 ½ may be subject to a 10 percent additional federal tax.
Our firm is not permitted to offer, and no statement contained herein shall constitute, tax or legal advice. You should consult a legal or tax professional on any such matters.
Who will take care of you if you are unable to care for yourself?
As the oldest baby boomers begin to wind through their 70s, one of the biggest concerns may not be outliving income, but outliving good health. With at-home care services averaging $20 per hour and assisted living facility costs averaging $3,628 per month,1 it's understandably daunting. Does your retirement income strategy account for this kind of possibility? Would you be prepared for twice that amount as a married couple?
Considering that you could have to reduce your financial means before Medicaid will pay for long-term care and neither your employer group health insurance nor major medical insurance will cover long-term care, you may want to consider planning ahead for these potential expenses.
We can help evaluate your situation and determine what kinds of products could fit into a comprehensive long-term care strategy, one that is suited to your needs and circumstances.
1 Genworth Financial. April 2016. "Genworth 2016 Cost of Care Survey." https://www.genworth.com/dam/Americas/US/PDFs/Consumer/corporate/131168_050516.pdf. Accessed Aug. 31, 2016.
What's the best way to handle old IRAs and 401(k)s?
When you change jobs or retire, there are four things you can generally do with the assets in any employer-sponsored retirement plan:
1. Leave the money where it is.
2. Take the cash (and pay income taxes and perhaps a 10 percent additional federal tax if you are younger than age 59½).
3. Transfer the money to another employer plan (if the new plan allows).
4. Roll the money over into an IRA.
Rolling over from one qualified plan to another qualified plan allows your money to continue growing tax-deferred until you receive distributions in retirement. We can help you determine if a rollover is the right move for you.
What will your legacy be?
IRA accounts have become one of the largest types of assets inherited by loved ones. If you don't anticipate needing your IRA money in retirement, you may wish to consider a legacy planning strategy that potentially reduces taxes and increases the payout your beneficiaries will receive upon your death.
You may want to use some of the value in your IRA to provide your beneficiaries with a regular stream of income while leaving the balance of IRA assets invested for tax-deferred growth. The result may yield substantially more money paid out over the course of your beneficiaries' lifetimes.
We can help you evaluate your financial situation to determine if IRA legacy planning could help you, and we can work with attorneys and tax professionals to help you meet your goal of structuring a long-lasting inheritance for your loved ones.
Our firm is not permitted to offer, and no statement contained herein shall constitute, tax or legal advice. You should consult a legal or tax professional on any such matters.
We can also refer you to professionals who provide the following services:
Trusts
Probate
Charitable Giving
Estate Planning
Tax Planning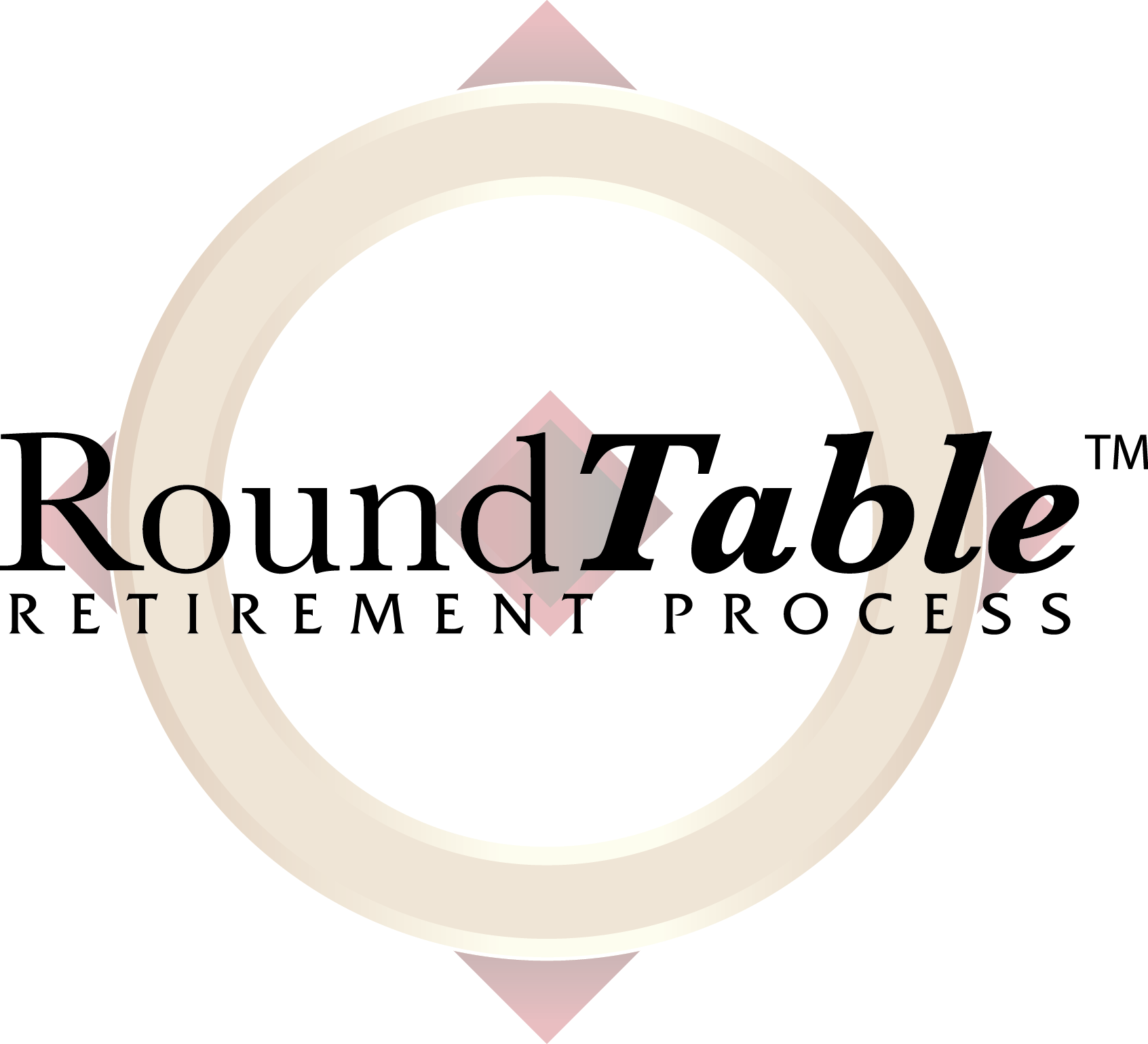 Your Round Table Retirement Process
A systematic and disciplined approach to financial planning.
Social Security Maximization

Health and Long-Term Care Planning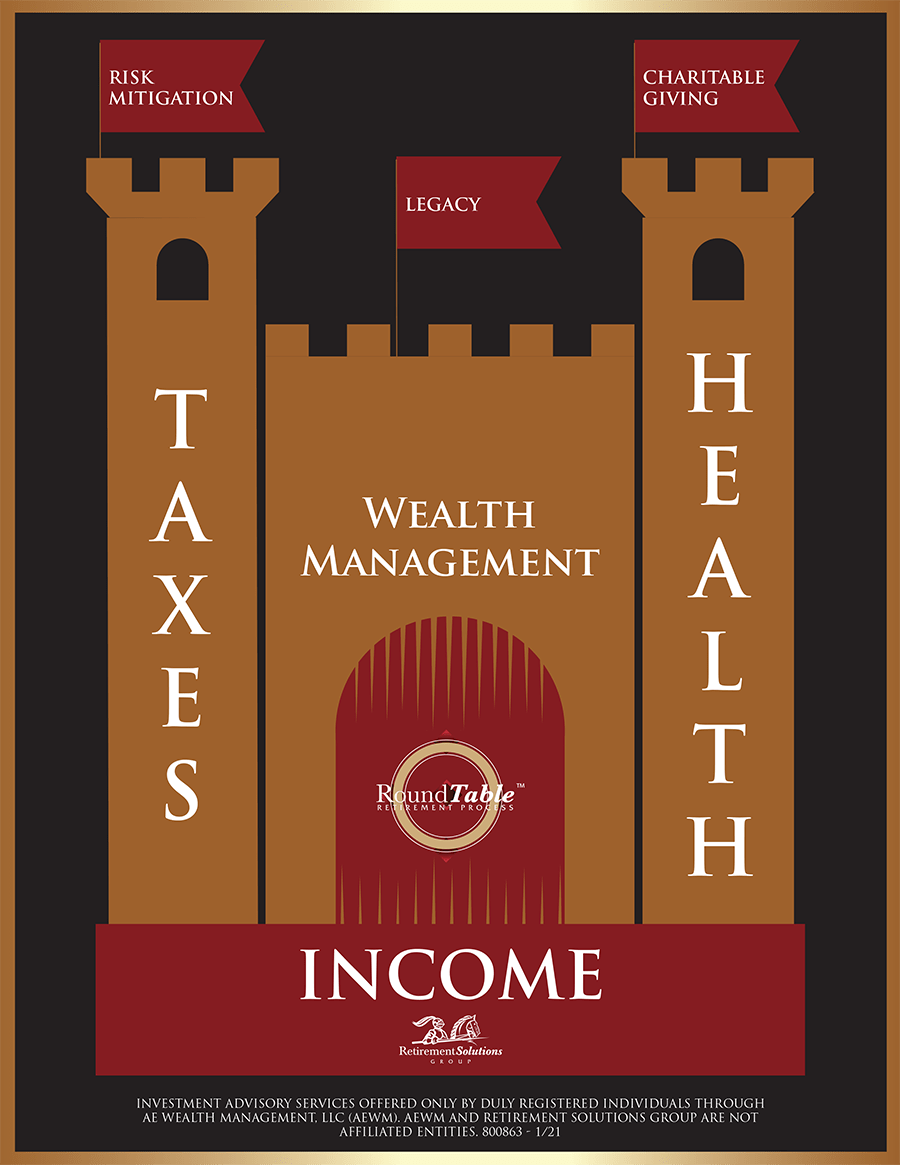 Legacy
Legacy:
It is important to ensure your hard-earned assets go to your beneficiaries in the most tax-efficient manner. By working collaboratively with a qualified estate planning attorney, our goal will be to help you:
Maximize your estate and income tax planning opportunities
Protect any assets in trust and ensure they are distributed to your beneficiaries probate-free
Prevent your IRA and qualified accounts from becoming fully taxable to your beneficiaries upon your death
Taxes
Taxes:
Any comprehensive retirement plan will include a strategy for decreasing tax liabilities.
This typically includes:
Assessing the taxable nature of your current holdings
Possible IRA planning
Strategizing ways to include tax-deferred or tax-free money in your plan
Determining which tax category to draw income from first to potentially reduce tax burden
Discussing ways to leverage your qualified money to leave tax-free dollars to your beneficiaries
Health
Health:
We will create a plan to help you address rising health care costs with a minimum of expense, including:
Looking at all aspects of Medicare, Parts A, B and D
Analyzing options for a long-term care plan
Income
Income:
Our goal is to help ensure your expenses can be paid month to month with reliability, tax-efficiency and predictability for the rest of your life. This typically includes:
Social Security maximization
Income and expense analysis
An inflation plan
A spousal plan
Longevity protection
Investments
Investments:
Our mission is to help you work toward your investment goals through low-risk and objective-based asset management. We specialize in providing comprehensive investment selection and asset allocation through a philosophy that emphasizes:

• Independence and a commitment to act in your best interests
• Transparency
• Stability and a focus on managing risk and volatility
• Integrity
• Strategic advice
How long are your retirement savings likely to last?
Do you know what your risk tolerance is? TAKE THIS QUIZ TO FIND OUT!